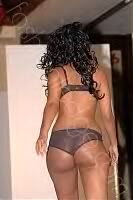 I have no clue who the female is. I believe she's some type of video vixen (hoe). Well her name is Angel Lola Luv and she just put out a new track which she calls rapping.
(Thanks Raven: http://www.visualabstractnyc.blogspot.com/)
But anyway this isn't about her music or pathetic rap skills, its about her ass!
I noticed a lot of "celebrities" these days get some form of surgery to enhance they're ass-ets.(lol)
Kim Kardashian
Mariah Carey
Janet Jackson
Lacey Duval (porn star)
To name a few. Check out the before and after pics. Her ass was nice then, its extraordinary now!
After all is said and done its too much ass, but I would still love it.
Let's keep it 100% people!